Everything's fine. I have no idea what the police are investigating.
Contact
My email address is ryan@qwantz.com. I get tons of emails, so please excuse me if I don't reply right away, and feel free to send a followup if it's important. Shorter messages? Twitter is amazing for that! I'm @ryanqnorth and I'm on there, like, all the time.
Want to send me something in the mail? THAT SOUNDS REALLY NICE. My address is:
Ryan North
PO Box 75328
Leslie Street Post Office
1015 Lakeshore Blvd East
Toronto, Ontario, CANADA
M4M 1B0
Conventions?
I like to travel and meet readers - best thing in the world! If you're in charge of a show and would like me to come (thank you!) please drop me a line at officeofryan@gmail.com.
Current Projects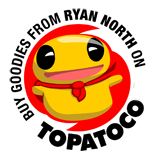 Squirrel Girl (art) by Erica Henderson, © MARVEL, Ophelia (art) by Kate Beaton, Midas Flesh (art) by John Keogh, Adventure Time (art) by Chris Houghton, © Cartoon Network