You know, that Dinosaur Comics dude.
Contact
I get tons of emails, so please excuse me if I don't reply right away, and feel free to send a followup if it's important. Shorter messages? Twitter is amazing for that! I'm @ryanqnorth and I'm on there, like, all the time.
You can also find me on Tumblr at ryannorth.tumblr.com.
Current Projects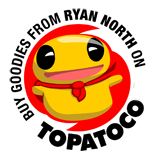 Squirrel Girl (art) by Erica Henderson, © MARVEL, Ophelia (art) by Kate Beaton, Midas Flesh (art) by John Keogh, Adventure Time (art) by Chris Houghton, © Cartoon Network