The place where food goes to die. Also: writer.
Work in Games
FLIPPING DEATH
Zoink Games, 2018: coming this year - a new game from Zoink that I wrote dialogue for! Here's the trailer.
---
DESTINY 2
Bungie, 2017: part of the writing team for the "Curse of Osiris" DLC. It was AWESOME. We also made comics!
---
STICK IT TO THE MAN
Zoink Games, 2013: I did the dialogue writing for this game! So if you ever thought "I wish I could play a game where Ryan made some jokes" I have good news: THAT GAME EXISTS. Also it got real good reviews, so there's two reasons to play it!
---
ADVENTURE TIME: ROCK BANDITS
Zoink Games, 2013: there's a comic inside this game that you can read. I wrote it!
Current Projects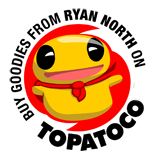 Squirrel Girl (art) by Erica Henderson, © MARVEL, Ophelia (art) by Kate Beaton, Midas Flesh (art) by John Keogh, Adventure Time (art) by Chris Houghton, © Cartoon Network