Everything's fine. I have no idea what the police are investigating.
Work Online
DINOSAUR COMICS

The comic with talking dinosaurs where the pictures don't change! It's even better than it sounds!! This comic also features: jokes AND ideas.
---
MACHINE OF DEATH
You can find this book in print too, but since we're nice people, we put a PDF of the first book online for free! I know! You can thank us later!
---
THE BRAVEST WARRIORS IN: ROBOCHRIS

I wrote a cartoon! It's an episode of Bravest Warriors and it features robot duplicates because of course it does.
---
TEDX TALK: A TIME TRAVELLER'S PRIMER
This isn't so much "work online" as "a cool video you can watch online" - it's my TEDx UofT talk about time travel and the most important invention we've ever come up with. HINT: you're using it right now!
---
B TO THE F
One time I may have done a page-by-page review of the (completely bonkers) novelization of Back to the Future that ended up longer than the actual book itself. And then it kinda turned into an examination of writing and adaptation as a whole? Also available as an ebook.
---
EVERY TOPIC IN THE UNIVERSE EXCEPT CHICKENS
Wikipedia's "chicken" page is semi-protected to this day.
---
PROJECT WONDERFUL
The advertising network that doesn't suck! I wanted Dinosaur Comics to have reader-friendly ads instead of terrible ones, so I coded an entire advertising network from scratch, and now it's used by all sorts of people!
---
NOAM CHOMPSKY'S EARLY LANGUAGE ACQUISITION

Pictures of my dog. <3
Current Projects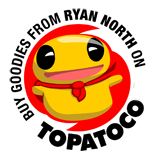 Squirrel Girl (art) by Erica Henderson, © MARVEL, Ophelia (art) by Kate Beaton, Midas Flesh (art) by John Keogh, Adventure Time (art) by Chris Houghton, © Cartoon Network