I'm packed and I'm stacked, specially in the back. You may want to thank my mother for a butt like that.
Talks
I've been a speaker at venues as diverse as Blizzard Entertainment (where I spoke about how one makes money as an independant cartoonist) to Yale (where I spoke about comics in general) to TEDx (
where I spoke about reinventing civilization from scratch when you're trapped in the past
) to countless libraries and schools around the world, where I try to inspire my audience about both the medium of comics and the fun and excitement of science and technology.
I'd love to come entertain (and maybe even educate??) at your school, business, or event. Please contact Kate Berner at the Penguin Random House Speakers Bureau if you're interested in having me visit!
Recent events from the past little while include:
2016-present: Juneau, Alaska Comics Camp - yearly school visits for disadvantaged youth, including incarcerated youth
2019: New Prarie High School, IL - schoolwide talk about writing, becoming a writer, and knowing that who you are in high school doesn't have to be who you are later on. They sent me feedback afterwards!

"Your visit was wonderful. Your presentation in the school auditorium was packed with great messages about writing, reading, and - more generally - being creative and approaching life as an ongoing project of learning and growing. When you were talking with students one-on-one, you were so approachable, so honest, and so insightful. As far as school visits go, you nailed it!"

2019: Trinity College, Dublin - keynote address to the Trinity Literary Society and Gamers Society about interactive storytelling
2019: Lethbridge Library Comic Con - special guest event on how to survive - and thrive - in the past
2019: Peninsula Libraries Comics Arts Festival - both general author and How To Invent Everything events
2018: Great Summer Books Program - guest lecturer on creativity and writing for the summer students at at Amherst College. They sent me feedback from the event afterwards!

"Liked Ryan North the best, made me see how literature was fun and didn't have to follow specific rules!!! Showed me that literature that was fun could still mean something."
"Really liked the guest speaker! Not everyone has the ability to carry the audience through the whole presentation. Make sure future guest speakers are as good as him!"
"Liked guest lecturer because he was funny and relatable, didn't talk down to kids."

2018: BAHFest - Keynote address (watch here!)
2018: XOXO - On Creativity, and Doing Things Nobody Has Given You Permission To Do
2017: Toronto Public Library - Educational comics address for an audience of librarians
2016: Toronto Comics Arts Festival - Keynote address
2016: The Walrus Talks - seven minutes on choosing your own destiny (watch here!)
2013: TEDx - Time travel talk (watch here!)
2011: Blizzard Entertainment - special address
2009: Yale University - comics talk, followed by a humor and writing workshop with students
2009: Reflectinos | Projections - on creativity, comics, and writing with constraints
Current Projects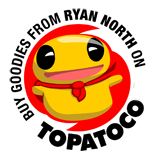 Squirrel Girl (art) by Erica Henderson, © MARVEL, Ophelia (art) by Kate Beaton, Midas Flesh (art) by John Keogh, Adventure Time (art) by Chris Houghton, © Cartoon Network