Author, humourist, tall Canadian, dog petter... and MORE.
Contact
My email address is ryan@qwantz.com. I get tons of emails, so please excuse me if I don't reply right away, and feel free to send a followup if it's important. Shorter messages? Twitter is amazing for that! I'm @ryanqnorth and I'm on there, like, all the time.
Want to send me something in the mail? THAT SOUNDS REALLY NICE. My address is:
Ryan North
PO Box 75328
1015 Lakeshore Blvd East
Toronto, Ontario, CANADA
M4M 1B0
Speaking?
I've given talks at universities, libraries, and events across North America including special events like TEDx, XOXO, and BAHFest, and like to give inspiring presentations and workshops about writing fiction, non-fiction, comics, comedy, and interative media. Here's a recent one: my keynote presentation at BAHFest East 2018! Talks are always original and adapted for your audience. If you're interested in exploring this please drop me a line at officeofryan@gmail.com.
Conventions?
I like to travel and meet readers - best thing in the world! If you're in charge of a show and would like me to come (thank you!) please drop me a line at officeofryan@gmail.com.
Current Projects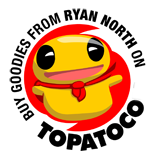 Squirrel Girl (art) by Erica Henderson, © MARVEL, Ophelia (art) by Kate Beaton, Midas Flesh (art) by John Keogh, Adventure Time (art) by Chris Houghton, © Cartoon Network