I'm packed and I'm stacked, specially in the back. You may want to thank my mother for a butt like that.
About Ryan
My name is Ryan North! I am a dude living in Toronto, Canada, and I write all sorts of things. You can contact me if you want! You can read my journal if you want! You can follow me on Twitter if you want! What I am saying is that there are options. Hey, I've got a Wikipedia entry too! I look like this:

emily took this! i call this photo, me in a tree
I do lots of writing online, and also I've made a whole bunch of books. Perhaps you are... intrigued??
About Interviews
They're fun! But they take lots of time, so I can't do them all, or even most of them. If you'd like to interview me, drop me a line and if I'm not too busy we can work something out! If you'd like to read some, here are some older ones that I like and that go into some detail!
Current Projects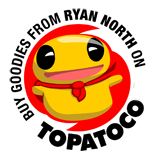 Squirrel Girl (art) by Erica Henderson, © MARVEL, Ophelia (art) by Kate Beaton, Midas Flesh (art) by John Keogh, Adventure Time (art) by Chris Houghton, © Cartoon Network