I am the final boss at the end of the internet. Also I write books!
Work in Print
Danger And Other Unknown Risks
Writer | 2023
Erica Henderson and I are back with an all-new, fully-original graphic novel about a young woman, her talking dog, and their adventure to save the world. It's a story about truth, friendship, and chosen family, and choosing hope even when there's none.
---
How to Take Over The World
Writer | 2022
Also translated into: Chinese, Japanese
Comic book world domination schemes can be pretty wild, involving things like floating bases, digging a tunnel to the Earth's core to hold it hostage, and more. But it turns out, with the right science, technology, and inventions, they're much more achievable than they might seem! I'm extremely proud of this book and can't wait for you to read it - find out more here!
---
How to Invent Everything
Writer | 2018
Also translated into: Chinese, Danish, French, German, Italian, Japanese, Korean, Polish, Russian, Taiwanese
Have you ever wondered about what you'd do if you were sent back in time? Have you ever worried that you don't know enough about how our modern technological world works to be able to rebuild it from scratch? I KNOW I HAVE. And that's partly why I wrote my new book: a hilarious non-fiction book wrapped in a fictional candy coating. With this book, you're going to make history... better.
---
How to Be a T.Rex
Writer | 2018
Being a regular old human is kind of a drag. That's why Sal is not going to be a teacher or doctor or lawyer when she grows up. She is going to grow up to be an awesome Tyrannosaurus Rex. Her brother thinks it's impossible, but Sal sure shows him! And in the beginning, being a T. Rex is AWESOME. But did you know that it's kind of hard to make friends when you are a super-giant, super-loud, super-stompy dinosaur? If only there were a way for Sal to be 100% awesome, 100% of the time...
---
Choose-Your-Own-Path Shakespeare
Writer | 2013 - 2017
Also translated into: Chinese, Spanish (Romeo and/or Juliet)
I turned Shakespeare into adventure books where you decide what happens next! To Be or Not To Be became the #1 most-funded publishing project on Kickstarter when it launched, and Romeo and/or Juliet was an instant New York Times bestseller and won an YASLA Alex Award, as a book written for adults that has special appeal to young adults!
---
Licensed Graphic Novels
Writer | 2020 - present
Besides these I also wrote Squirrel Girl, Jughead, and Adventure Time, but I did so many of those that they got their own sections, below!
a New York Times summer graphic novel for middle-grade readers
!
---
The Unbeatable Squirrel Girl
Writer | 2014 - 2019
Also translated into: French, Japanese, Spanish
The acclaimed (and Eisner-winning!) Marvel Comics series!
---
Jughead
Writer | 2016 - 2017
The Eisner-award winning run on the burger-loving teen!
---
Adventure Time
Writer | 2012 - 2015
Also translated into: French, Russian
The Harvey and Eisner-award winning run!
---
Midas
Writer | 2014, 2019
Also translated into: Italian
What if King Midas was scientifically accurate, and also in space? This space opera comedy explores a galaxy of gold, dinosaurs, and conflict. The complete series was been collected as "The Midas Flesh" in two trades in 2014, and then collected into a single book - as was always intended - under the title "Midas" in 2019!
---
Machine of Death
Editor, Contributing Writer | 2010, 2013
Also translated into: French, German, Hebrew, Italian, Japanese, Spanish
What if there was a machine that could tell you how you were going to die... but not when? These two books - spun off from a Dinosaur Comic - collect tons of amazing short stories exploring the full potential of that premise.
---
Dinosaur Comics
Creator | 2003 - Present
Also translated into: Russian
It's the same pictures with different words - and it's way better than it sounds! You can read Dinosaur Comics online too!
---
Stand-alone stories
Writer | 2008 - Present
Not sure if you want to commit to reading an entire book by me? I get it. Try these bite-sized short stories instead!
---
Research papers
Author | 2003 - 2007
Besides creating science fiction, I've also created actual science.
---
Current Projects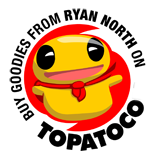 Squirrel Girl art by Erica Henderson, © Marvel Comics, Ophelia art by Kate Beaton, How To Invent Everything art by Derek Charm, Kid Constantine art by Derek Charm, © DC Comics, Slaughterhouse-Five art by Albert Monteys, How To Be A T.rex art by Mike Lowery.